On the Go
Mobile Personal Emergency Response System. More than just a GPS Tracker.
The On the Go medical alert system includes an advanced GPS locator so that you can quickly get the help you need in your home or on the go. Automatic fall detection can call for help if a fall is detected and you are unable to press the help button.* No matter where you are you will still have access to 24/7 help should you experience a fall or need medical assistance.1
Living a life of independence shouldn't be restricted to the home environment, you should feel comfortable going for a walk or even taking a vacation.4
The all-in-one On the Go mobile medical alert system will allow you to continue to live life to the fullest. It is more than a seniors GPS tracker: it provides Two-Way Voice Communication directly from the pendant, fall detection that will call for help from anywhere when you can't2, the ability to call multiple contacts, and around the clock access to Lifeline's response centre associates.
Once a fall is detected, or you have pressed your Mobile Help Button, a trained Lifeline Response Associate will quickly assess your profile and your situation. Based on your needs at that moment, the Associate will call either a neighbour, family member or emergency service. So, whether you are in the comfort of your own home, picking up the mail, or enjoying dinner out with friends, you will always feel safe and secure.
The medical alert system with GPS that gives you freedom to go where you want, when you want. Feel safe & secure when you're on the go.
On The Go is recommended for people who:
Frequently socialize outside of home
Don't let frailties limit what they do
Are still active but may be becoming more frail / at risk for falls
Go out 3-4 times a week alone (i.e. volunteering, visiting friends, running errands, exercising)
Worry about their ability to access help outside their home in a medical emergency
"To the amazing Lifeline team, Thank you so very much for your kind attention to my dad, Jean Paul Hebert. We have had your service for many years now, since mom became ill. We thank you most sincerely."
"The wireless service is perfect for someone like me who has a chronic illness. It lets me stay independent safely and it's so wonderful not to have to worry about how I would get help if I have another unnoticed seizure."
"Words can barely express how much peace of mind this service has brought to me and my family since getting it. It has allowed me to live alone, in my own home, ever since my husband's death years ago. A wonderful service."
System & Hardware
Lifeline medical alert systems offer dependable, convenient, and purpose-built technology. What does that mean to you? Just like how in the event of an emergency, you can get help quickly.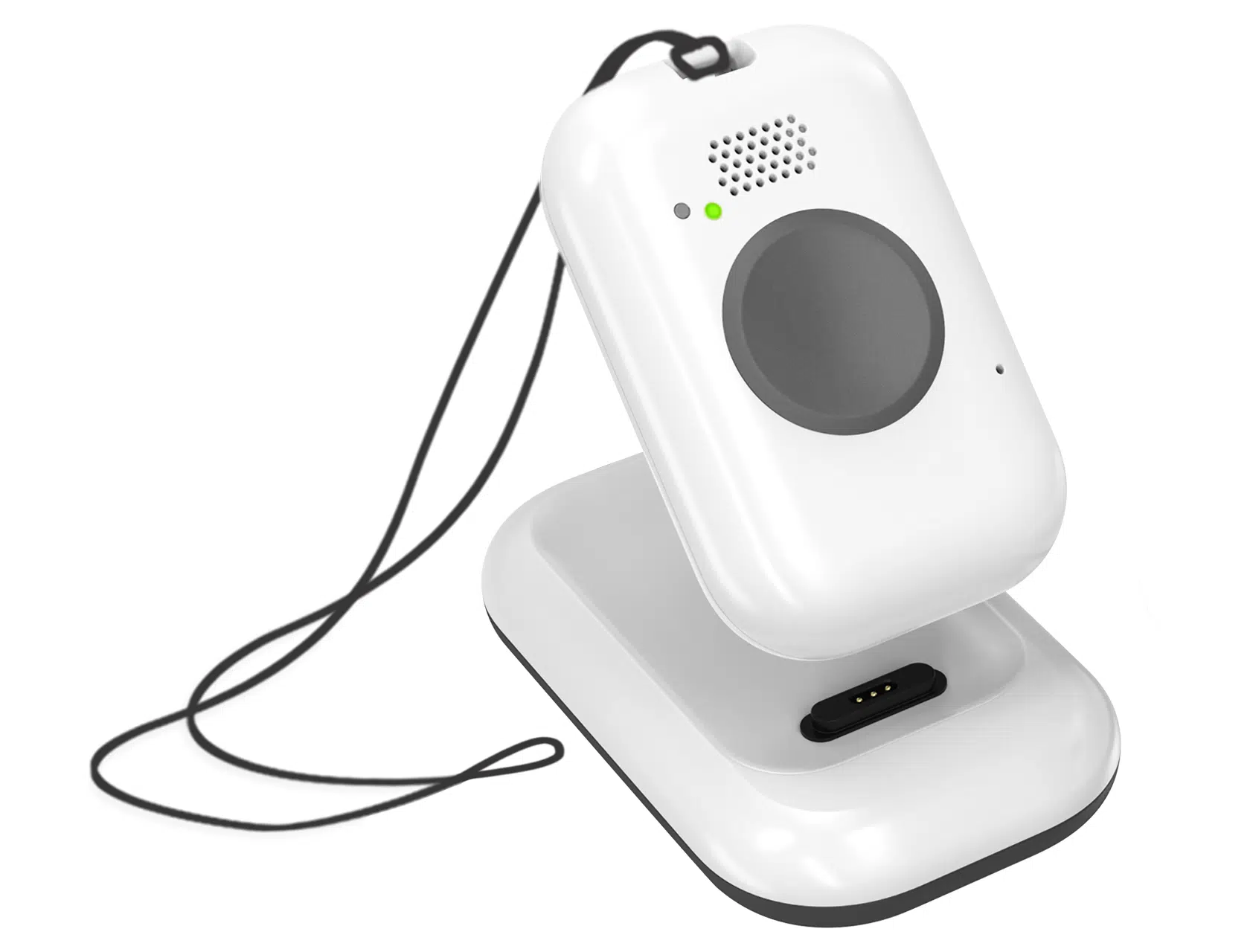 Personal alert button
Wear the On the Go Button around your neck as an adjustable pendant both inside and outside the home for access to help when you need it!
The On the Go emergency button for seniors is designed to automatically place a call for help if a fall is detected and you are unable to push your Help Button.
Water-resistant
You may wear it in the shower where falls often occur.
Rechargeable Battery
The battery lasts up to five days on a single charge – we recommend charging on a daily basis.
Airplane mode
The Button can be put in airplane mode for when you travel by plane.
All-in-one System
This single-piece system provides fast access to help whenever and wherever you need it.
More than a GPS Tracker
Superior Automatic Fall Detection
Fall detection technology can automatically call for help if it detects a fall—even if you can't push the button.2
Location Technologies
On the Go features advanced location tracking including Advanced GPS so no matter where you are, we can get you the help you want.5
Two-way Voice Communication
Speak directly with a Lifeline Response Associate through you On the Go help button to have fast access to help on the go.
Uninterrupted Support
Since you can wear your Lifeline Help Button at all times, unlike a cell phone, it should always be easily within reach.
You Are in Charge
Choose whether our Response Centre dispatches a family member, close friend or emergency services when help is needed.
24/7 Response Centres
Our Canadian-based Response Centres are available 24/7, and staffed with professionally trained and caring Associates.
How On the Go Works
1. Summon help
Press your Mobile Help Button at any time. If you fall and can't push your button – the fall detection feature can automatically call for help if it detects a fall— at home or on the go.2
2. Hear a reassuring voice
A caring Lifeline response associate will quickly access your personal profile and assess the situation.
3. Get located
Lifeline pinpoints your location through the communicator or your mobile pendant. On the Go uses up to 5 technologies to determine where you are.5
4. Know help is on the way
Our response associate contacts a neighbour, loved one, or emergency services – based on your preferences – and will follow up to make sure help has arrived.
Frequently Asked Questions
Can I travel across Canada with my On the Go?
Yes. If you are away more than one night, we recommend bringing your On the Go button with the charger. If you know in advance you will be travelling, let us know so we can set up a temporary profile and review what you need to do. Please notify us when you have reached your destination and always send a test call through.
Can I bring my On the Go button with me to travel outside Canada?
No. We cannot monitor On the Go subscribers outside Canada. Please refer to your Service Agreement for more information.
What if I take the plane with my On the Go button?
You will need to put your On the Go Mobile button in Sleep mode. This is outlined in your Instructions for Use.
How long will the charge last on my On the Go Mobile Medical Alert button?
The battery can last up to 5 days, based on the activity level. In general, we recommend that you charge your On the Go Mobile button daily if possible. Refer to the Instructions for Use for more information.
Is there a wrist version of On the Go?
What is the difference between waterproof and water resistant? What is the IP Rating?
Waterproof means the device can be submerged under water for a certain length of time up to a certain depth. Water resistance means the device can withstand small splashes of water, rain, sweat, etc. I do not have the IP Rating information on the new devices.
If the Fall is detected, who do we contact first?
If the client is responsive, we will speak to them through the 2-way communicator to discuss what has happened and call responders/emergency services as needed. If the client is unresponsive, then we will try calling over the phone. If there is no answer over the phone, we will then call 911 then call the list of responders.